Kevin Fischer is a veteran broadcaster, the recipient of over 150 major journalism awards from the Milwaukee Press Club, the Wisconsin Associated Press, the Northwest Broadcast News Association, the Wisconsin Bar Association, and others. He has been seen and heard on Milwaukee TV and radio stations for over three decades. A longtime aide to state Senate Republicans in the Wisconsin Legislature, Kevin can be seen offering his views on the news on the public affairs program, "InterCHANGE," on Milwaukee Public Television Channel 10, and heard filling in on Newstalk 1130 WISN. He lives with his wife, Jennifer, and their lovely baby daughter, Kyla Audrey, in Franklin.

Here are my selections for the top photos of 2010.

#20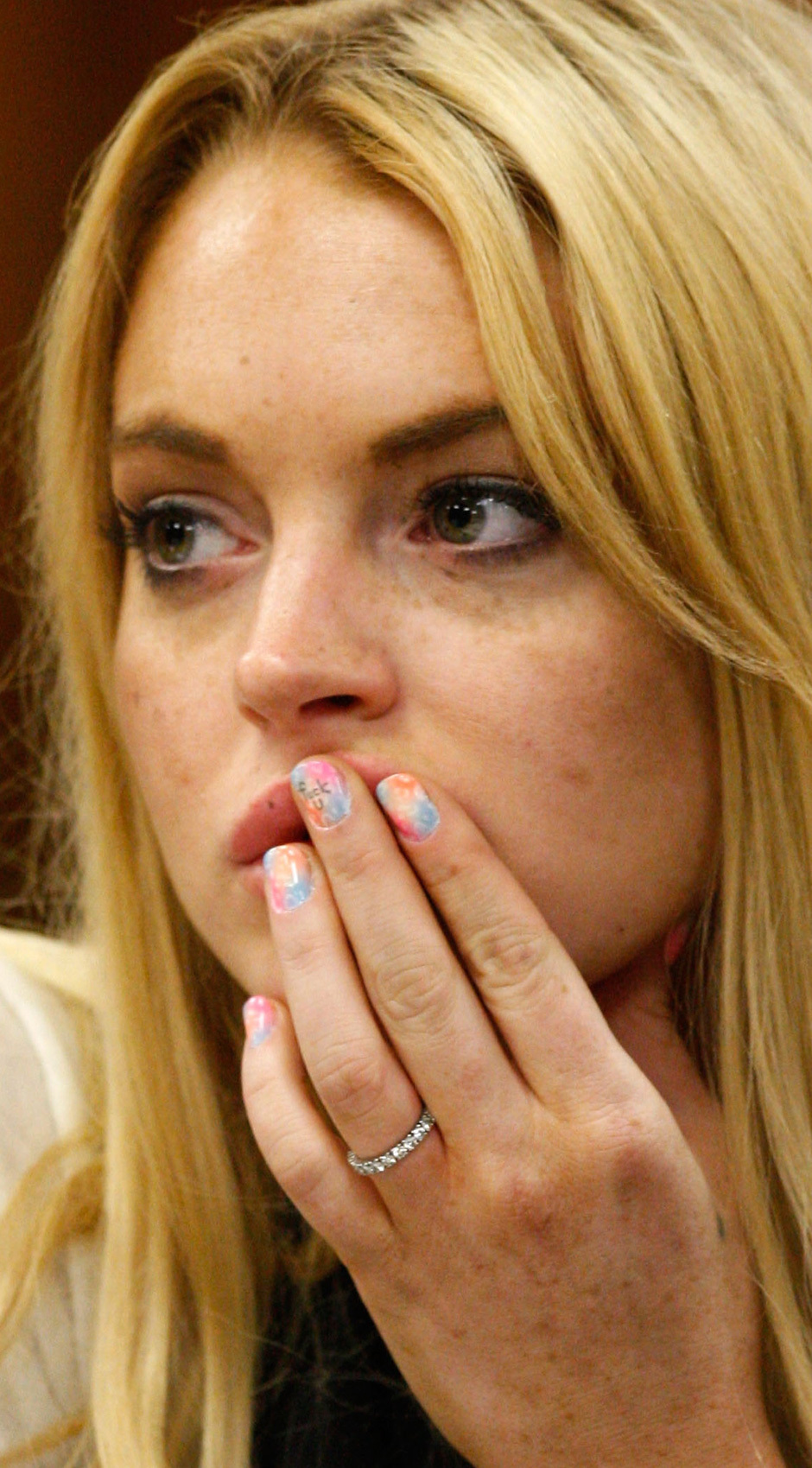 Lindsay Lohan had a special message for the court last July painted on the fingernail of her middle finger. She was sentenced to 90 days in jail at the probation violation hearing. Photo: www.wwtdd.com


#19




Two year-old octopus Paul, the so-called "octopus oracle" predicts Spain's 2010 soccer World Cup final victory over The Netherlands by opening and choosing a mussel from a glass box decorated with the Spanish national flag instead of a glass box with the Dutch flag, at the Sea Life Aquarium in the German city of Oberhausen on July 9, 2010. Paul became a media star after correctly picking all six German World Cup results including their first-round defeat against Serbia and their semi-final defeat against Spain. (REUTERS/Wolfgang Rattay


#18




A snowboarder flies through the Olympic rings at the start of the opening ceremony of the Vancouver 2010 Winter Olympics, February 12, 2010. (REUTERS/David Gray)


#17




A 26ft statue depicting a famous New York Times Square kiss that celebrated the end of World War II has been unveiled to mark the 65th anniversary of the U.S. victory over Japan. The towering color sculpture immortalizes Alfred Eisenstaedt's black-and-white photograph of an unidentified sailor kissing nurse Edith Shain in 1945. The image captured an epic moment in U.S. history and became an iconic photo marking the end of the war after being published in Life magazine. Photo: The Daily Mail.




Cristina Casas and Ruben Requena of Barcelona, Spain, kiss in New York's Times Square, Saturday, Aug. 14, 2010 to mark the 65th anniversary of VJ Day. (AP Photo/Mary Altaffer)


#16




Lighthouse Christian School teacher Heather Harrell reacts after finding her grandmother's Bible in her classroom that was destroyed by the flood in Antioch, Tennessee on Monday, May 3, 2010. (AP Photo/The Tennessean, Shelley Mays)


#15




German police officers lift a woman from the crowd of revelers outside a tunnel at the Love Parade "The art of Love" in the western German city of Duisburg July 24, 2010. A stampede killed at least 19 people after mass panic broke out in a tunnel at the techno music festival in Germany. (REUTERS/Daniel Naupold)


#14




Pilot Capt. Brian Bews parachutes to safety just as his CF-18 fighter jet plummets to the ground during a practice flight at the Lethbridge County Airport for the weekend airshow in Lethbridge, Alberta, Canada on July 23, 2010. (AP Photo/The Canadian Press, Lethbridge Herald, Ian Martens)


#13



U.S. Marines from Bravo Company, 1st Battalion, 6th Marines, protect an Afghan man and his child after Taliban fighters opened fire in the town of Marjah, in Nad Ali district, Helmand province, February 13, 2010. (REUTERS/Goran Tomasevic)


#12




In seawater covered by a thick layer of spilled oil, two Chinese firefighters, Zheng Zhanhong (center) and Han Xiaoxiong (top right) attempt to rescue their fellow firefighter Zhang Liang (only his hand visible) from drowning beneath the oil slick during clean-up operations at the port of Dalian, China on July 20, 2010. Zhang Liang was unable to resurface, and drowned. (REUTERS/Jiang He/Greenpeace)


#11

In this aerial photo taken in the Gulf of Mexico more than 50 miles southeast of Venice on Louisiana's tip, the Deepwater Horizon oil rig is seen burning Wednesday, April 21, 2010. Eleven men working on the platform were killed, and 17 others injured. (AP Photo/Gerald Herbert)


#10




A bird is mired in oil on the beach at East Grand Terre Island along the Louisiana coast on Thursday, June 3, 2010. Crude oil flowed from a hole in the bottom of the Gulf of Mexico for three months after the Deepwater Horizon oil rig exploded and sank on April 20th, 2010. (AP Photo/Charlie Riedel)


#9




U.S. Army Sgt. Jonathan Duralde (right) and Sgt. Luis Gamarra of Bravo Troop 1-71 CAV react and hold hands as they fight pain from injuries they suffered from an IED blast as they are transported aboard a MEDEVAC helicopter from Charlie Co. Sixth Battalion, 101st Airborne Combat Aviation Brigade, Task Force Shadow June 25, 2010 near Kandahar, Afghanistan. (Justin Sullivan/Getty Images)


#8




A US Army soldier from Scout Platoon 502 Infantry Regiment, 101st Airborne Division searches an associate of a suspected Taliban IED placer, seen in a wheelbarrow, who was killed in a coalition missile strike in Zhari district, Kandahar province on Oct. 10, 2010. (AP Photo/Rodrigo Abd)


#7




A man steps carefully through lifeless bodies piled outside the morgue in Port-au-Prince on January 14, 2010, following a devastating earthquake that rocked Haiti on January 12. Haiti's government has placed the final death toll at over 230,000. (JUAN BARRETO/AFP/Getty Images


#6




A man touches his newborn baby, born three days earlier, at the Israeli hospital in Port-au-Prince January 20, 2010. (REUTERS/Carlos Garcia Rawlins)


#5




B.J. Parker of Lake Forrest, California, recites the National Anthem during the "Restoring Honor" event on the steps of the Lincoln Memorial on August 28, 2010 in Washington, D.C. Conservative broadcaster Glenn Beck hosted the event, which drew people from around the country and filled the National Mall between the Lincoln Memorial and the World War II Memorial. (Chip Somodevilla/Getty Images)


#4


Transportation Security Administration agents perform enhanced pat-downs on passengers at DIA amid growing controversy about the screenings and full-body scanners, one week before Thanksgiving air travelers crowd airports. (Craig F. Walker, The Denver Post)


#3




In this frame grab taken from a computer screen shows a recorded image of Florencio Avalos, one of 33 trapped miners, during the first contact with a video camera in Copiapo, Chile, Sunday, Aug. 22, 2010. A video camera lowered down the probe shaft showed some of the miners Sunday, and engineers reinforced a lifeline Monday, preparing to keep them supplied with food, water, medicine and communications during the four months it may take to carve a tunnel wide enough to pull them out. The mine collapsed on Aug. 5. (AP Photo)


#2


Aisha, 19, shocked the world when she appeared on the cover of Time Magazine in August to lift the veil on the plight of many women in Afghanistan.


#1


Sgt. Brian Keith with his wife, Sara, and their son, Stephen, 6 months, July 2, 2010, just before Sergeant Keith deployed to Afghanistan with other troops from Fort Drum, N.Y. Damon Winter/The New York Times
This site uses Facebook comments to make it easier for you to contribute. If you see a comment you would like to flag for spam or abuse, click the "x" in the upper right of it. By posting, you agree to our Terms of Use.