Kevin Fischer is a veteran broadcaster, the recipient of over 150 major journalism awards from the Milwaukee Press Club, the Wisconsin Associated Press, the Northwest Broadcast News Association, the Wisconsin Bar Association, and others. He has been seen and heard on Milwaukee TV and radio stations for over three decades. A longtime aide to state Senate Republicans in the Wisconsin Legislature, Kevin can be seen offering his views on the news on the public affairs program, "InterCHANGE," on Milwaukee Public Television Channel 10, and heard filling in on Newstalk 1130 WISN. He lives with his wife, Jennifer, and their lovely baby daughter, Kyla Audrey, in Franklin.

When we were kids, my friends and I would often head to 4th and Mitchell in Milwaukee and swim on men's day at the Public Natatorium (yes, they had a women's day, too). Affectionately referred to as, "The Nad," the two-story building housed a swimming pool on the main level and a wrap-around balcony on the second level with the Spartan dressing rooms, each shared by seven or eight people.

When you entered the Natatorium, you were given the number of a dressing room and you'd trudge up the steps to change into your suit and then head back downstairs to first floor where the showers were as quickly as possible. That's because each dressing room was allowed only so much time, about an hour, to swim. When your dressing room number was called over the PA system, you had to exit the pool and change.

The natatorium was not as popular with our gang in the summer months because it was an indoor facility. We preferred a county swimming pool that usually was free and you could swim as long as you wanted up until closing time.

Sometime in the 70's the natatorium closed and was later re-opened as a restaurant called, "The Public Natatorium." The owners kept the pool in the center so dolphins could perform entertaining shows. The area where swimmers once showered now had dining tables that circled the swimming pool. On the menu, the usual fare that also included some exotic, game entrees like lion and ostrich.

My cousins Claire and Claudia took me there and I couldn't believe how this old bath house had been converted to what was then the talk of the town. I don't recall what I ate or if it was all that tasty. I just remember the unusual transformation of the place, and the fact that lion was on the bill of fare.

The Public Natatorium is no more. But lion is once again on a menu. It all started during last summer's World Cup when Cameron Selogie, owner of Il Vinaio restaurant in Mesa, Arizona decided to spice up his menu.




The restaurant provided this photo: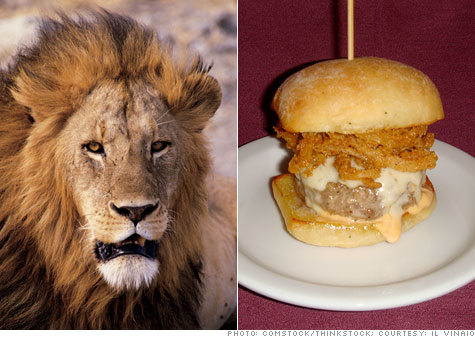 That was last year.

At Bocas Tacos y Tequilas in Tucson, check out Wednesday on their specials menu:






For the past six months, Bocas Tacos y Tequilas has been offering the wildest taco variations as mid-week specials, and I do mean wild: Python, alligator, elk, kangaroo, rattlesnake, frog legs, turtle, duck and Rocky Mountain oysters. But owner Bryan Mazon had heard about those lion burgers and thought he could take his menu up another notch. Mazon made this roaring announcement according to the Arizona Daily Star:

"The UA-area taco shop was accepting prepaid orders for African lion, to be served on Feb. 16. Orders must be placed by 3 p.m. Feb. 7."

And what's been the reception to lion tacos? Does a lead balloon come to mind? On Saturday, ABC News reported:

"Since news of the offering hit the internet Thursday, Bryan Mazon, the restaurant's owner said he has received hundreds of phone calls, but very few orders. 'I'm getting more calls to tell me to go to hell and drop dead, but there's an interest out there,' said Mazon, who said he's received nine orders so far for the tacos, which he plans to sell for $8.75 apiece."

Loud opposition has been voiced by protesters either unaware or ambivalent about the fact that African lions are not an endangered species and can therefore be butchered and sold for meat.

Being adventurous, I might be tempted to try a lion taco. You know, when in Rome. But I'd probably settle for the Don Pancho.

Mazon readily concedes the lion taco is a losing venture. The restauranteur is going through all this trouble if you will to get attention that is already coming in waves.

Some no-no.


CULINARY NO-NO BONUS

Restaurant out east, "Legal Sea Foods" has special sold out dinner featuring 'blacklisted' species.


ANOTHER CULINARY NO-NO BONUS

A guide about how to date a vegan!


AND FINALLY,

You witness a rude waiter. What would you do?

This site uses Facebook comments to make it easier for you to contribute. If you see a comment you would like to flag for spam or abuse, click the "x" in the upper right of it. By posting, you agree to our Terms of Use.