Kevin Fischer is a veteran broadcaster, the recipient of over 150 major journalism awards from the Milwaukee Press Club, the Wisconsin Associated Press, the Northwest Broadcast News Association, the Wisconsin Bar Association, and others. He has been seen and heard on Milwaukee TV and radio stations for over three decades. A longtime aide to state Senate Republicans in the Wisconsin Legislature, Kevin can be seen offering his views on the news on the public affairs program, "InterCHANGE," on Milwaukee Public Television Channel 10, and heard filling in on Newstalk 1130 WISN. He lives with his wife, Jennifer, and their lovely baby daughter, Kyla Audrey, in Franklin.


THERE ARE THOUSANDS AND THOUSANDS OF
FOOD BLOGS, BUT ONLY ONE CULINARY NO-
NO!

Sunday morning after Mass we usually head over to Meyer's Restaurant near 76th and Forest Home. If we get Pat as our waitress who lovingly claims she's been waiting on me for a century, she doesn't even have to ask me.

With pad and pen ready, she says, "I know, I know."

And then Pat rattles off my order.

"Chopped sirloin, eggs, scrambled, hash browns, white toast. A1."



Gotta have A1.

Years ago, some of that sauce somehow wandered over onto my...



Not one to waste, I ate it and like Mikey in the old Life cereal commercial, I liked it. Now I drizzle A1 on my eggs on a regular basis, sometimes quite generously. Some might consider that odd, but that's not this week's no-no.

Back to Meyer's, Jennifer will occasionally order eggs...



And she'll break open that runny center and dunk her wheat bread.

Jennifer inspired the very first Culinary no-no. Has she done it again?

The shocking news this past week informed that...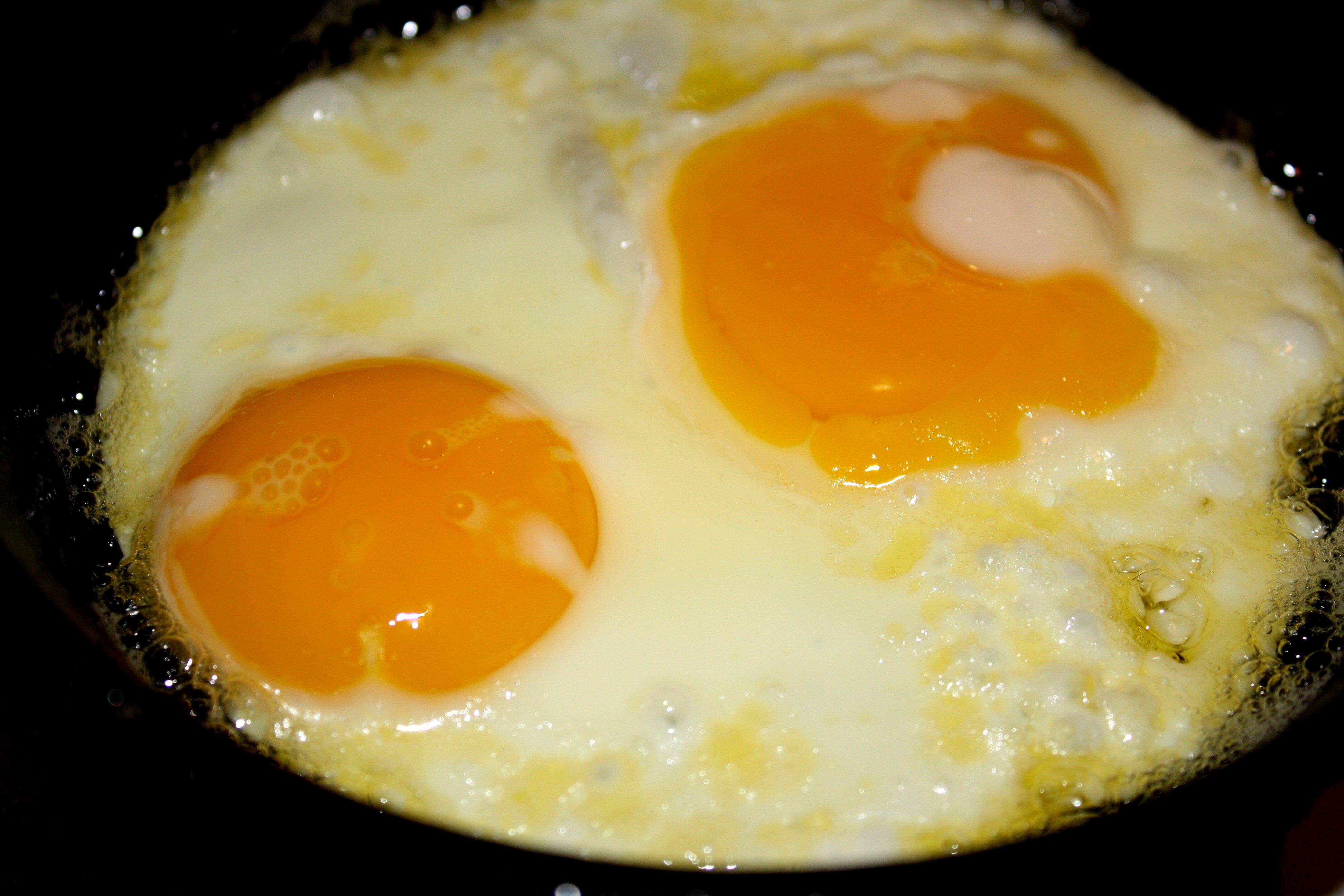 Is just as unhealthy as...








On the surface, that sounds ridiculous.

Every time you light up, every time, you are hurting yourself. The same cannot be said about eating egg yolks.

However, in a study published online in the journal Atherosclerosis, Dr. David Spence found that people who eat egg yolks regularly have about 2/3 as much plaque buildup as smokers.
"Our findings suggest that regular consumption of egg yolk should be avoided by persons at risk of cardiovascular disease. This hypothesis should be tested in a prospective study with more detailed information about diet, and other possible confounders such as exercise and waist circumference."

What about a guy like me who's been eating eggs since he was a kid?

"Just because you are 20 doesn't mean egg yolks aren't going to cause any trouble down the line," said Dr. Spence.

Great.

I thought eggs were terrific. What have they been telling us for decades?





OK, somebody.

Anybody.

Please.

Help us egg lovers.

Hello ABC News.

ABC reports the Canadian study isn't all that it's cracked up to be because the research is flawed.

"This is very poor quality research that should not influence patient's dietary choices," said Dr. Steven Nissen, who chairs the department of Cardiovascular Medicine at the Cleveland Clinic Foundation, in an email. "It is extremely important to understand the differences between 'association' and 'causation'."

Nissen said the researchers relied on patients to recall how many eggs they consumed, but asked them once and assumed it remained constant, which isn't reliable. He said the way researchers measured patients' plaque has come under "considerable criticism," and that researchers failed to adjust for other dietary factors.

Dr. David Frid, a cardiologist at the Cleveland Clinic, told ABCNews.com he doesn't think smoking should be equated with eating eggs because eggs have an indirect rather than direct impact on heart disease. The eggs have to first increase cholesterol to create plaque build-up. The impact of smoking on heart disease is direct because smoking causes arteries to become inflamed, which prompts the body to respond with plaque.


Of course, the media ran with story. Wouldn't you?

EGG YOLKS CAN KILL JUST LIKE CIGARETTES…THE DETAILS TONIGHT AT 10:00!

Still, this kind of stuff gets awfully frustrating. Whether its eggs or beef, when we're told for decades a product is good for us, only to have the rug pulled out and informed no, no, no, it's now deadly, c'mon. I'm thinking that there isn't a product out there, even the so-called "superfoods" that highly paid scientists can't condemn as risky.

I'll just ignore their "sky is falling" research.

After all, how would they explain…






Pat, nix the sirolin. I'll have some Eggs Benedict, please.


CULINARY NO-NO BONUSES

Speaking of scary news stories about food, this one's an oldie. Never eat a hot dog again? Wanna bet?


What's it really like to work at McDonald's? Maybe it's true. I'll still keep eating there.


I've ordered a Double Whopper, but never this. Or this.
This site uses Facebook comments to make it easier for you to contribute. If you see a comment you would like to flag for spam or abuse, click the "x" in the upper right of it. By posting, you agree to our Terms of Use.