Kevin Fischer is a veteran broadcaster, the recipient of over 150 major journalism awards from the Milwaukee Press Club, the Wisconsin Associated Press, the Northwest Broadcast News Association, the Wisconsin Bar Association, and others. He has been seen and heard on Milwaukee TV and radio stations for over three decades. A longtime aide to state Senate Republicans in the Wisconsin Legislature, Kevin can be seen offering his views on the news on the public affairs program, "InterCHANGE," on Milwaukee Public Television Channel 10, and heard filling in on Newstalk 1130 WISN. He lives with his wife, Jennifer, and their lovely young daughter, Kyla Audrey, in Franklin.

THERE ARE THOUSANDS AND THOUSANDS OF
FOOD BLOGS, BUT ONLY ONE CULINARY NO-
NO!

Take the cheapest, Brand X hot dog you can find. Now dump it in a stale, old bun. Wrap it in foil and let it sit under a warmer for hours. Now serve it here: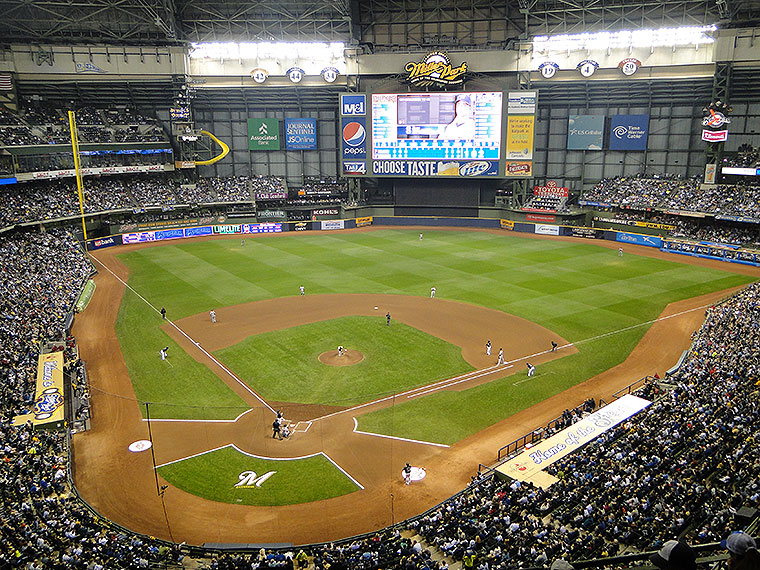 I have no idea why, but you'll swear it's the best tasting hot dog you've ever had in your life (BTW, I'm not accusing Miller Park of serving such inferior fare. I'm merely using the example to as an intro to this week's segment).

The classic ballpark atmosphere surely enhances the pleasure of downing a dog with your favorite condiments. A frankfurter just tastes better at a baseball game.

During last week's no-no I mentioned a trip to Santa Barbara in 1983 for a friend's wedding. His fiance', a California native, when discussing the virtues of the Golden State lit up when she mentioned a Los Angeles fixture:

"Dodger Dogs! When you're in LA you gotta have a Dodger Dog!"

As the name suggests, this treat, an extra long wiener, is served at games at Dodger Stadium.








That's how a Dodger Dog looks naked.








You can, of course jazz up your Dodger Dog.




Heck, you could even wear your Dodger Dog on your head.

Like apple pie and Chevrolet, the Dodger Dog is a slice of Americana. It's been around since 1958.

Can't get to the ballpark?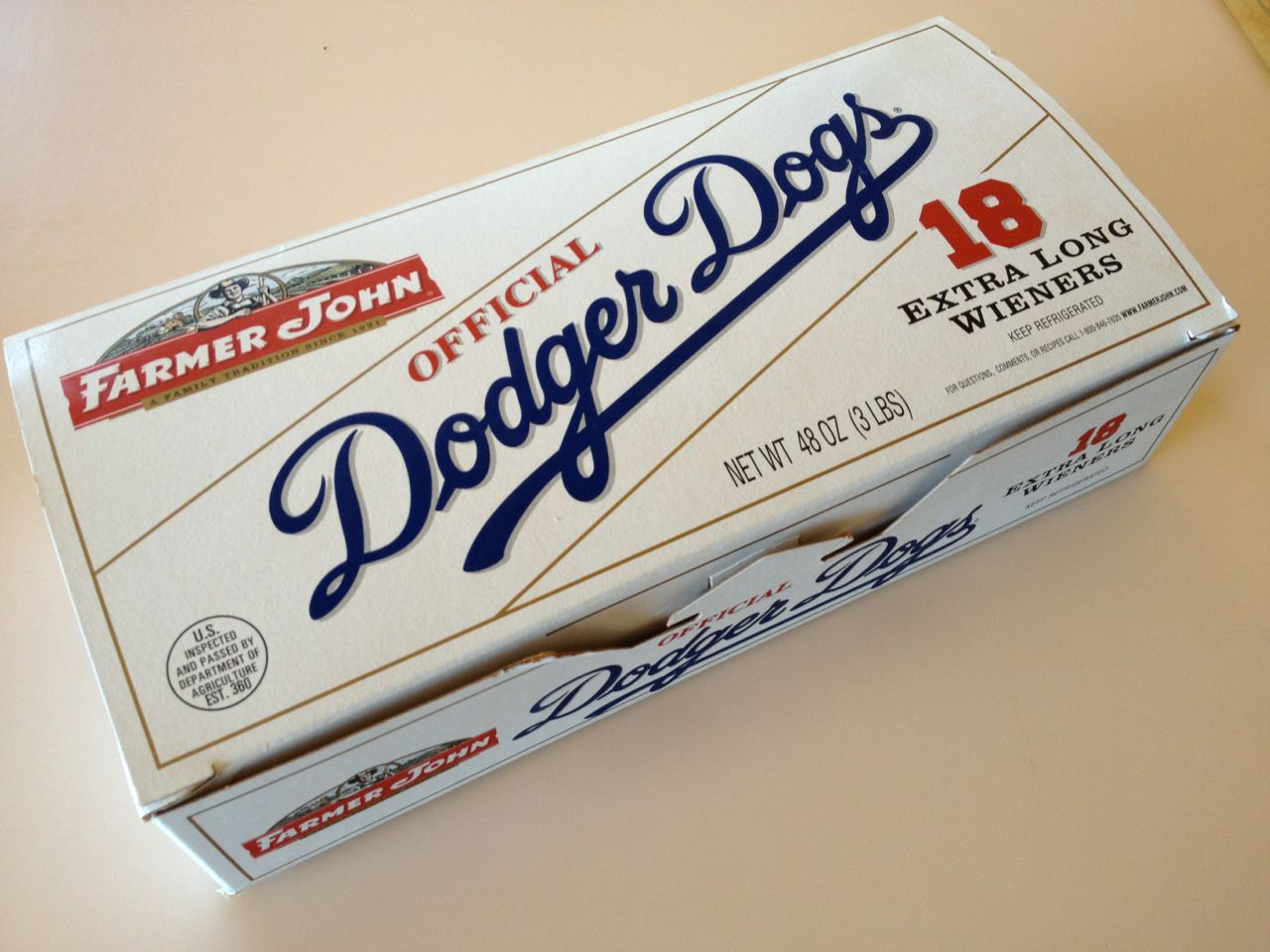 They've got you covered.

But I repeat, a frankfurter just tastes better at a baseball game.

Or does it?

After 55 years, the once sacred Dodger Dog is under attack. The home fans have become boo birds.

Chris Erskine of the LA Times writes:
"Bigger, stronger, full of sass. That's this year's Dodegrs. So why shouldn't fans have a sandwich that represents the team? Trust us, it's not the lowly Dodger Dog. Beloved, sure, in the same way we love vintage Volkswagens, as tokens of simpler eras.
"As a gastronomic accomplishment, a Dodger Dog is mostly minor league. If you've had one, you've had them all. If McDonald's ever served hot dogs, it would taste much like a Dodger Dog — consistent but bland. Forgettable as a politician's promise."
An LA Times reader, Philip Rottman was also critical, writing to the paper:

"The Dodger Dog has become consistently worse: colder, slimier, and more unforgettable every day. It's a step below an AM/PM hot dog and two steps below a 7/11 dog. It's a disgrace! The last several I've eaten have been gray and cold upon immediately opening. The Dodgers must do something or a whole new generation of youngsters won't even have sentiment guiding their own Proustian taste buds in the future. An abominable dog by any other major league stadiums offerings!"
Readers were asked to offer ideas to salvage the once perfect tube steak. The newspaper also chimed in.

Regular readers of this blog know a recurring theme is that all too often cooks, in trying to create something new and exciting, go overboard in their creativity and end up messing up a good thing.

Did the LA Times come up with a home run or strike out?
Step 1: Wrap three Farmer John hot dogs in bacon and bake them until they're crisp.
Step 2: Generously spread a giant hot dog bun with Dijon mustard and place the bacon-wrapped dogs on top.
Step 3: Now build to taste: sautéed peppers, sauerkraut laced with bits of apple and caramelized onion, garlic potato wedges placed along the side and a snowy layer of white onion sprinkled on top.
Step 4: Lace the whole wonderful wad with cracked pepper, just because.
I say...WINNER! Whomever the paper consulted with resisted going Bizarro.

What about reader suggestions?
"I propose an Oki Dog stand at Dodger Stadium. For those not familiar with Oki dogs, they're hot dogs wrapped in pastrami, slathered with chili and cheese, and then folded into a large tortilla. For extra kick add kimchi."
"I'd like to see it made with a grilled Hebrew National hot dog on a toasted brioche bun. Drizzle with jalapeno aioli sauce. Deliciosa!"

Hmm. The latter sounds great. The former sounds like too much slopped together that don't combine very well.

Refining and tweaking a menu (especially if it improves) is never a bad idea. Dodger Stadium responded and is providing some new offering for the current playoffs.

Tom Hoffarth of the LA Daily News writes:

"Usually, the 'Loaded' dogs go for $7.75, ranging from the Doyer Dog Jr. (Nacho cheese, chili, pico de gallo and jalepenos) the Kim Chi Dog (with, of course, Kim Chi), Frito Pie Dog (Fritos, chili, cheese), the Big Kid Dog (gooey Mac and Cheese with Fritos) and the classic Heater (buffalo wing sauce and blue cheese cole slaw)."
Hoffarth paid $9 for a new "Extremely Loaded" variety:

"...this foot-long all-beef wiener on a pretzel baguette was already topped with pastrami, a few squirts of mustard and a sliced pickle... I went ahead and added a scoop of onions to the whole mess."

If I may stray into Culinary yes-yes-ness, I discovered a dog, unlike most of those already mentioned that leaves no doubts. This is mighty good stuff:
Ingredients:
1 Hot Dog
1 Bratwurst, cooked and hinge split in half
1 slice of bacon
1 pretzel bun
Directions:
Take hinge sliced bratwurst and open it up a little and place hot dog inside split. Roll out the bacon slice until the slice is double in length. Wrap hot dog stuffed bratwurst with bacon. Place on baking sheet and bake in 300 degree oven for about 10 minutes until an internal temperature of 165 degrees is reached. Remove and stuff in pretzel bun. Top with favorite hot dog topping and enjoy.


This baby is served at Lambeau Field, the Packer Pride Dog…


HT: FOX11 online, Green Bay.

Now that's a hot dog!
I want one, right now!

Getting back to the West Coast, Dodger Stadium was wise to promote new product. It would be even wiser to, if critics are correct, make necessary changes to improve the Dodger Dog to the quality customers love and remember.

In the meantime, Los Angelenos, relax. Your Dodgers had a terrific season, their playoff series with St. Louis returns to your place Monday night, and you surely will be able to find something you like at a concession stand.







Where I live we have plenty of great sausages, but no playoff team, not even close.



CULINARY NO-NO BONUSES

Speaking of ballpark franks, this vendor, in my view got screwed.


Obesity is not a disease.


"Carrie" coffee shop prank spooks customers.


Lunching with your colleagues may not be a good idea.


What do chain restaurant workers refuse to eat?


Some might consider these a no-no.
This site uses Facebook comments to make it easier for you to contribute. If you see a comment you would like to flag for spam or abuse, click the "x" in the upper right of it. By posting, you agree to our Terms of Use.