Kevin Fischer is a veteran broadcaster, the recipient of over 150 major journalism awards from the Milwaukee Press Club, the Wisconsin Associated Press, the Northwest Broadcast News Association, the Wisconsin Bar Association, and others. He has been seen and heard on Milwaukee TV and radio stations for over three decades. A longtime aide to state Senate Republicans in the Wisconsin Legislature, Kevin can be seen offering his views on the news on the public affairs program, "InterCHANGE," on Milwaukee Public Television Channel 10, and heard filling in on Newstalk 1130 WISN. He lives with his wife, Jennifer, and their lovely baby daughter, Kyla Audrey, in Franklin.

Picture it.

A living room on a Sunday afternoon in the late 1960's.

The set is turned to CBS.

NFL football.

Vince Lombardi's Green Bay Packers.

Ray Scott is performing his customary stellar play-by-play duties.

The Pack has the ball on the one-yard line of their opponent that I can't recall.

Bart Starr takes the snap from center.

No vaunted Packer sweep this time. Just a straight up the middle handoff to one of the backs. Again, I don't recall but it was probably Donny Anderson or Jim Grabowski for a Green Bay TD.

What I do remember was my brother and I laughing uproariously in jubilation as CBS went to instant replay several times, not to show the average, mundane Packer score, but a ferocious block. Lined up on the right side, Packer tight end Marv Fleming on a routine up the middle surge had taken his man and literally pushed him back nine yards deep in the end zone. No way that defender was going to get near the ball carrier. Impressive, yes, but not unexpected. Fleming, who had a well-deserved reputation as a great blocker.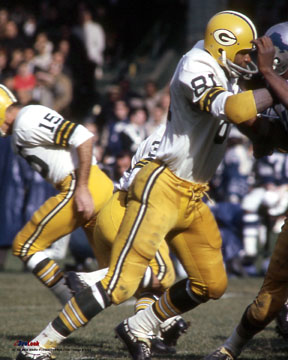 I do recall Fleming was not the greatest receiver. He'd make tough receptions, but then disappoint by dropping the easiest balls to catch. So his career #'s are not off the charts. Doesn't matter. Fleming played in FIVE Super Bowls, four of them on the winning team.

This morning, over 40 years later, Marv Fleming made me laugh again when I read in the morning paper he put Milwaukee Journal Sentinel sports reporter/columnist Lori Nickel in her place. A very good writer, Nickel began to ask Fleming, who's being inducted, finally, into the Packer Hall of Fame, a question about statistics, specifically Fleming's statistics. Fleming was ready for it, interrupting Nickel before she could come even close to finishing her query. From the Journal Sentinel:

"I hate the question already. Statistics, statistics, statistics. All they talk about. Let me ask you a question. How would you like to catch 50 balls and never go to the Super Bowl? All right, and how would you like to be a great blocker in the NFL and go to the Super Bowl five times? How old are you? Are you a fan of the NFL? So, do you know what I am saying, then?"

Love it.

I'm positive Nickel meant no disrespect. But I bet she has even more regard for Marv Fleming now.
This site uses Facebook comments to make it easier for you to contribute. If you see a comment you would like to flag for spam or abuse, click the "x" in the upper right of it. By posting, you agree to our Terms of Use.